KEEPING OUR COMMUNITIES SAFE
To help keep our community safe when you visit our shops, we ask that you follow these simple guidelines and if you have any symptoms of Covid-19 please come back and visit when you are feeling better:

HELP YOURSELF TO HAND SANITISER
Please apply the hand sanitiser provided when you come in.

WEAR A FACE COVERING
Our staff are wearing face coverings for your safety. We recommend you also wear a face covering in our shops.
RESPECT PERSONAL SPACE
Please respect people's personal space in our shops. Shop alone or in pairs where possible; at busy times pop back and see us when we are a bit quieter.
OUR COMMITMENT TO SAFE AND RESPONSIBLE SHOPPING

While many of the government's coronavirus restrictions will officially end on July 19th, we want to make sure you feel safe and confident every time you shop with Seasalt. For that reason, we will continue to ask that you use hand sanitiser whenever you enter a shop. We will also ensure our shops are ventilated with fresh air by opening windows and doors wherever it is safe to do so, while Perspex screens will remain in place at the sales counters.
For the safety of everyone, we strongly recommend all our staff and customers continue to wear face coverings when in our shops. This is in line with the latest government advice, which states that the "government expects and recommends that people continue to wear a face covering in crowded, enclosed places".
As a further measure, we ask that you respect people's personal space while shopping, and do so alone or in pairs whenever possible. We have calculated indicative maximum customer capacities based on the size of each store, which will allow you to shop freely and safely. If it is extremely busy, we might ask you to return a little later.
To help everyone feel safe and comfortable, we're offering a limited number of in-shop and virtual private appointments. These can be booked online or by speaking to one of our team members.
We look forward to welcoming you to one of our stores soon. Thank you for being part of the Seasalt community.
Find a shop
We can't wait to see you. Opening times may have changed, so we recommend checking before you travel.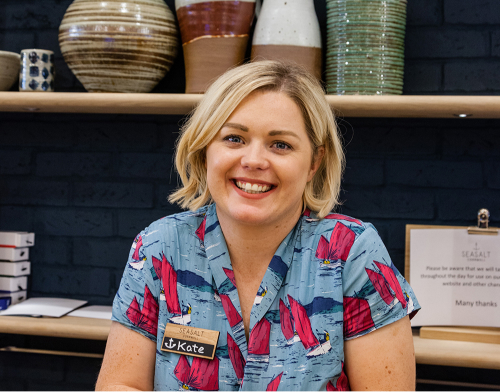 Private shopping
We're offering in-shop and virtual appointments so everyone can enjoy a truly personal Seasalt experience.
FAQS
+
What are Private Shopping Appointments?
Our Private Shopping Appointments are a chance for you to have your local Seasalt shop all to yourself, to enjoy browsing with total peace of mind and use of our changing rooms. Visit our private shopping page here to find out how it works.
+
What are Virtual Shopping Appointments?
We offer Virtual Shopping Appointments via zoom. You'll experience our bespoke service where we will make recommendations and help you find some special new pieces. Visit our private shopping page here to find out how it works.
+
Are you still able to deliver my parcel?
Yes, we are. We are operating at normal capacity and have a 28 day returns policy.
+
What are you doing to keep your staff and customers safe?
We are adhering to social distancing, wearing face coverings, cleaning regularly and only taking contactless payments. We are closely following all local government guidelines.
+
Are changing rooms open?
All our changing rooms are open (except in Ireland), so you can try on a maximum of 5 items at a time. If you'd prefer to try your chosen items on at home, we have a 28 day returns policy, so there's time to bring back anything that isn't quite right for you.
+
How are you supporting employees at this time?
The precautionary measures in place at our shops are helping to keep both our staff and customers safe – read more about shopping safely with us above.
We've adapted working practises at our Distribution Centre in Cornwall to make sure our warehouse colleagues can work safely within the government guidelines. They are a brilliant team, and we're so grateful to them for their hard work and positive approach. Some of the extra precautionary measures we've taken include splitting shifts to reduce the number of people working together, reinforcing hygiene guidelines, and remaining two metres from each other at all times.
For our office teams, who have been adapting to working from home, we've offered lots of advice to help them look after their mental and physical health. Staying connected is so important, so we make sure our teams check in with each other regularly, via virtual coffee breaks and frequent updates through our online platform, as well as via email and phone.
The wellbeing of our teams and customers will always be our first priority and we consistently reviewing and adapting to government advice to keep our community safe.
JOIN SEASALT FRIENDS
Be the first to hear more about our new collections, competitions, special events and share our love of Cornwall