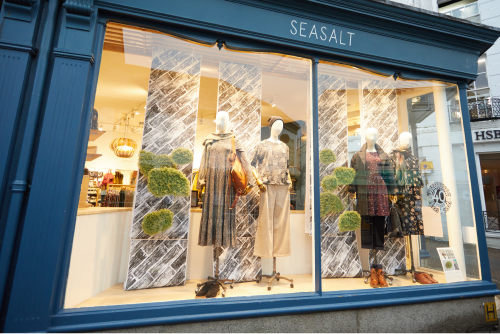 Private shopping appointments
Our in-shop private appointments are a chance for you to have your local Seasalt shop all to yourself, to enjoy browsing with total peace of mind and use of our changing rooms.
We'll ask you to fill in our quick style survey so we can put together a rail of special pieces we think you might like, ready for your appointment. Learn how it works.
How it works
Fill out

our quick booking form, select a shop as well as a date and time, then fill out your details and our quick style survey.
We'll send you an email to confirm your booking.
Enjoy your appointment! We'll have prepared a rail of items we think you might be interested in and will be able to suggest some more pieces based on your feedback.
There's no minimum spend or pressure to buy - this is your chance to try things on and find something you'll love.

"It is a brilliant service! To be able to see the clothes and ask all the questions you want to ask about them, and with such a helpful and lovely Seasalt assistant"

"Hannah was so lovely, really friendly, and very helpful. She had personal experience of the items we were discussing and offered sound advice"