Our Commitments
Ever since we began, our home in Cornwall has been a constant source of inspiration. Our designs are influenced by the sailors, farmers, fishermen and artists of the area, as well as the wild landscapes that surround us.
WE SPENT 2020 REFLECTING, REVIEWING AND REFINING OUR PRIORITIES.
That's why we're bringing a new level of ambition to our Sustainability Strategy. Our bold targets are designed to ensure Seasalt grows responsibly, with sustainability and creativity at the heart of our product, people, community and environment.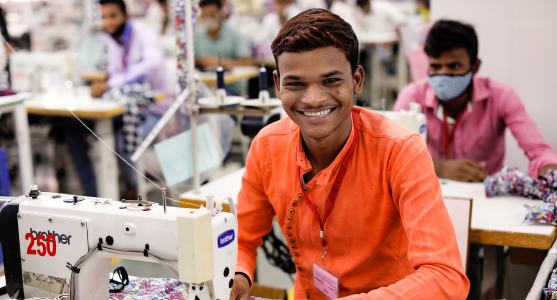 ENVIRONMENT
We're focusing on adopting policies and practices that help cut our carbon footprint for the wellbeing of people and the environment.
BRC Climate Roadmap
Support the British Retail Consortium as the retail industry aims to reach Carbon Net Zero by 2040.
Science-Based Targets
Develop science-based targets in 2021 to help Seasalt reach net zero earlier than 2040, pursuing efforts to limit warming to 1.5°C
INNOVATION
We're always exploring new ideas and technologies that will reduce our impact on the environment and help Seasalt grow responsibly.
3D Sampling Technology
3D sampling to be implemented across suppliers to reduce environmental impact through emissions and waste.
Reclamation Programme
Roll out a full clothing takeback scheme by 2022.
COMMUNITY
At Seasalt, we're lucky to be part of a thriving community that loves to come together to create, give back and be inspired.
£1 million donation to charity
We have pledged to donate £1 million to our chosen charities, like Mind, by 2025.
20,000 volunteering hours
Employees across Seasalt to achieve 20,000 volunteering hours for local communities by 2025.

PRODUCT
Our collections focus on quality and longevity, and each year, we're future-proofing more of our fabrics with organic and recycled fibres.
100% GOTS Organic Cotton
100% Global Organic Textile Standard-certified cotton to be used across all products by the end of 2024.
100% LWG Leather
100% of our leather to be sourced from gold and silver Leather Working Group tanneries by the end of 2024.
100% RWS Wool
100% of the wool used in our collections to be certified by the Responsible Wool Standard by the end of 2024.
100% Closed Loop Viscose
100% of the viscose used in our collections to be responsibly sourced and made using closed loop systems by the end of 2024.
Tier 2 Supplier Mapping
All Tier 2 suppliers to be identified and mapped by our compliance and ethics team by the end of 2023.
Environmental Reduction Target setting for Tier 1 Suppliers
100% of Tier 1 significant suppliers to have developed energy and waste reduction targets by the end of 2023.