A new chapter for your clothes
We truly believe our clothing has so much more to give after you've finished wearing it. It's why we've partnered with Reskinned, so we can write a new chapter for Seasalt clothes that you have loved and lived in.

By choosing pre-loved Seasalt items when you want to update your wardrobe, you're saving clothes from landfill and helping to give these garments a second life.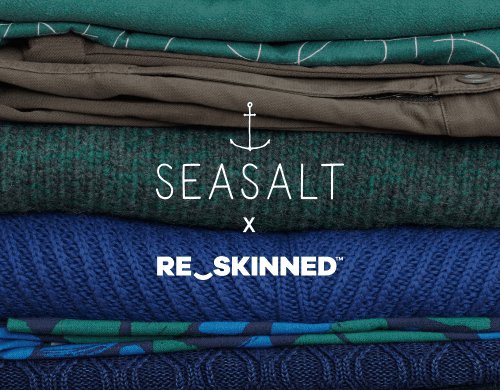 Our goals have always been simple: to craft beautiful clothing that inspires and endures, share our love of Cornwall and work towards reducing the impact of our business on the environment.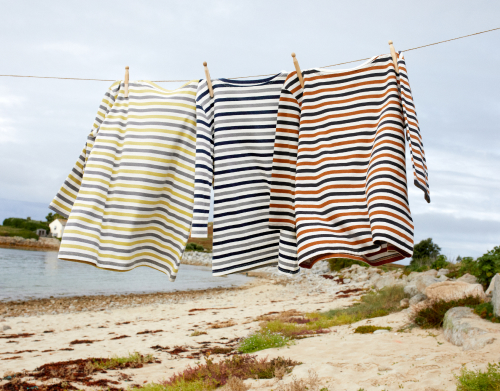 Sustainability at Seasalt
We've committed to ambitious sustainability targets. These include increasing the use of certified sustainable materials in our products year on year, transitioning to become a Carbon Net Zero business by 2040, and working with trusted partners – like Reskinned – who support our commitment to making responsible choices for people and the environment.
What is Seasalt x Reskinned and how does it work?
Seasalt x Reskinned aims to give pre-loved Seasalt pieces a new lease of life, preventing them from going to landfill. You can trade in your pre-loved Seasalt items for a takeback voucher to spend online at Seasalt.

This service is online only for customers within the UK. Takeback vouchers can be issued up to the value of £25 (depending on the items returned). Not all Seasalt pieces qualify for a takeback voucher, if traded in, these items cannot be returned and will be recycled. Please see above for steps on how it works.

Find out more about Reskinned here. More questions? Please see Reskinned Takeback FAQs and Terms and Conditions.
Can I trade in non-Seasalt items?
Yes you can! These items will not qualify for a takeback voucher but they will be recycled.
How and when will I receive my Seasalt x Reskinned takeback voucher?
Reskinned will email your takeback voucher to you within 10 days of receiving your pre-loved Seasalt items.
How do I redeem my Seasalt x Reskinned takeback voucher?
Enter your takeback voucher code at the UK online checkout at time of purchase. Minimum spend applies, please see Seasalt x Reskinned takeback voucher Terms and Conditions for full details.
What happens to the profits generated from the resale of Seasalt garments?
All profits generated from the resale of Seasalt garments on the Reskinned platform will be used to support Seasalt sustainability, charity and community initiatives. Along with encouraging our customers to send their pre-loved clothing to Reskinned so that it can be given a second life, any profits from sales will benefit our designated charities and projects through Doing Good Things at Seasalt. To find out more about our partnership, please see above.